The door to new, exclusive content worlds is opening – and all of Austria is getting the key. The European content player CANAL+ has landed in our country – with a comprehensive streaming offer, its own app – and a linear TV channel! For Austrian TV consumers, the new offer means a huge variety of films and series from all genres, focused on Europe – and thus an exciting alternative to US providers, reports Philipp Böchheimer, Managing Director of CANAL+ Austria GmbH, and content managers Irmina Dabrowska and Sonja Schiftar at the first "Rendezvous with CANAL+" in Vienna's FilmQuartier on March 10, 2022. The big launch has taken place on March 15.
"Finally, we can announce the great news today: with CANAL+ we are indeed bringing the first true hybrid TV offering to Austria. This means that you can lean back and simply enjoy our linear channel or select your favorite movies and series yourself via the CANAL+ streaming service – at home or on the go on your mobile device", explains Philipp Böchheimer at the launch of the new TV offering during a background discussion in front of journalists.
The offer in detail: CANAL+ Streaming – 3 streams on 5 devices for €8.99 per month. With the streaming service one can draw from the full, because apart from the emphasis already mentioned, exclusive and original contents from STUDIOCANAL, films from Kinowelt TV, Filmtastic,and series from STARZPLAY, as well as more than 250 Austrian film hits, cabarets, and series are available. All of this is now available throughout Austria for €8.99 per month – allowing 3 simultaneous streams on 5 devices in full HD. The corresponding app is available for iOS, Android, and all standard smart TVs.
CANAL+ FIRST ­– the new linear channel in Austria
On the linear channel CANAL+ FIRST, numerous European series, documentaries, and films, as well as international blockbusters, and Austrian in-house productions, will be shown in parallel with the comprehensive streaming offer – supplemented by exclusive content highlights. Right from the start, domestic film and series fans can look forward to highlights, such as Vernon Subutex, Countdown Copenhagen, Fleabag (only on CANAL+ FIRST), or Roadkill.
CANAL+ owned domestic productions, such as the music magazine AUX and the youth-focused news format "Was geht?", will also be launched.
CANAL+ FIRST can be received via A1 Xplore TV and HD Austria – other network operators throughout Austria will follow shortly. "We are offering an Austrian channel with content specifically for the Austrian market. The goal is to expand the range step by step and to be able to provide all Austrians with the full range of the TV channel at all times".
Austrian CANAL+ team for Austrian television needs
"What's special about our offer is that a highly specialized Austrian team takes care of Austrian TV consumers: we constantly tailor our content to the needs of the domestic audience and can also draw from the CANAL+ worldwide pool of exclusive content", Böchheimer emphasizes. With Böchheimer, the French CANAL+ Group has recruited someone with extensive production experience, having spent fifteen years professionally in the field of film and television production. This is a strong commitment that CANAL+ will focus not only on international content, but also on in-house production. For the launch in Austria, the content experts at CANAL+ have worked hard and negotiated tenaciously over the past few months to be able to offer the domestic audience a tailor-made total package. "We are constantly on the lookout for the best and most suitable content for our customers – this includes, for example, the first broadcast of excellent shows and feature films on linear TV, partnerships with major lifestyle content providers, close collaborations with the most established documentary brands, synergies within the CANAL+ Group, and the discovery of special European content", explains Irmina Dabrowska, Head of Linear TV at CANAL+ Austria.
CANAL+ with 22 million subscribers worldwide
"Our tradition and experience on European productions is a big plus over US providers in the TV market. What makes us special is that we are a streaming provider that also has a linear TV channel. And after all, it was us who invented the "plus" in the name – long before any of our competitors", Böchheimer continues. CANAL+ has successfully stood for entertainment and premium quality since 1983 – "22 million subscribers worldwide speak for themselves".
Creating a whole new content world
With CANAL+ a whole new content world will be created for Austria. The Austrian-based company will benefit from the CANAL+ Group's many years of expertise and will exclusively show its own successful formats – such as the cult series Vernon Subutex, produced by its own label CANAL+ Original. The company will also draw on the experience of its partner A1 in the domestic market.
Marketing professionals from Goldbach for CANAL+ FIRST
The new linear channel CANAL+ FIRST will be marketed by Goldbach Austria, one of the leading domestic agencies specializing in TV, online, mobile, Advanced TV, and Digital Out-of-Home.
CANAL+ in Austria – the key points briefly:
– CANAL+ is the first Austrian streaming service – with its own linear channel CANAL+ FIRST.
– CANAL+ offers exclusive European series, documentaries and films, international blockbusters – and many local in-house productions in full HD quality – as a counterpart to US providers.
– At CANAL+, a highly specialized Austrian team takes care of the Austrian market and domestic TV preferences.
– CANAL+ Streaming offers entertainment when and where you want: 3 streams and 5 devices at the same time are possible per subscription.
– The subscription is available for only €8.99 per month, the first month is free of charge – and it can be canceled monthly.
– The linear channel CANAL+ FIRST can be received via A1 Xplore TV and HD Austria – other network operators will follow soon.
Selected content highlights for the launch of CANAL+ and CANAL+ FIRST
Starting in April, special and exclusive highlights on CANAL+ and CANAL+ FIRST will be available – and a wide range of series and movie hits will already be available with the launch on March 15.
A small selection:
Countdown Copenhagen
Synopsis: In the Copenhagen metro, 15 innocent people are kidnapped by three masked men and held in a tunnel of the metro system. While an anti-terrorist unit does everything to rescue the hostages, popular TV presenter Naja Toft tries to mediate between the terrorists and the police. A huge media spectacle splits the population into two camps, while the hostages lose all hope of rescue.
Cast: Paprika Steen (The Idiots, The Commissioner and the Sea), Johannes Lassen (Brotherhood), Sara Hjort Ditlevsen (Rita), Jakob Oftebro, (The Bridge – Transit to Death, Lilyhammer), Dar Salim (Game of Thrones, The Bridge – Transit to Death).
The Salisbury Poisonings
Synopsis: An exclusive drama of a global news event that shook the world: Following the 2018 Novichok poisoning of Russian double agent Sergei Skripal and his daughter Yulia in Salisbury, the series examines the event from the perspective of three key figures: Heroic Detective Sergeant Nick Bailey, who unwittingly poisoned himself in the line of duty; Tracy Daszkiewicz, the determined head of the local health authority, who fought to protect the residents of Salisbury before things quickly got out of hand; and the tragic story of Dawn Sturgess, the innocent victim of the deadly poisoning.
Cast: Anne-Marie Duff (Sex Education, Suffragette), Rafe Spall (The Big Short, Jurassic World: The Fallen Kingdom), MyAnna Buring (Kill List, The Witcher), Mark Addy (The Full Monty, White House Farm), Saul Dibb (Dublin Murders, The Duchess).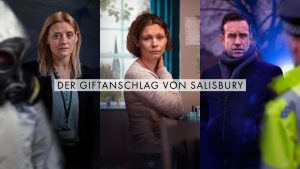 Vernon Subutex
Synopsis: The filmed audience hit about the couchsurfing, once successful record store operator was dubbed especially for the German-language TV market, is based on the novel trilogy by Virginie Despentes and is a moving story about the defeated of the new age. In the French drama series, Vernon Subutex realizes that he is fast approaching his personal abyss. He has become a victim of the digital world: as a punk musician, vinyl seller, and operator of a record store in Paris, his business is going from bad to worse with the arrival of music downloads. Finally, he is forty, unemployed, and ends up on the street. And against this whole backdrop, a detective story takes its course.
Cast: Roman Duris (L'Auberge espagnole) and Céline Sallette (Rust and Bone).
Trust me
Synopsis: Cath Hardacre is an idealistic, hard-working nurse, who dreams of bigger and better opportunities for herself. When she realizes there are many mistakes happening in her hospital that are being kept quiet, she takes her concerns to the hospital corporation – and loses her job. To provide for her young daughter, Cath is forced to take drastic measures. She steals her best friend's identity as a doctor and begins a new life in Edinburgh as Dr. Ally Sutton. But as her old life threatens to destroy her new existence, Cath resorts to increasingly desperate measures to cover up her lies.
Cast: Jodie Whittaker (Doctor Who), Michael Abubakar (Artemis Fowl), Cameron Jack (What happened to Monday?), Lois Chimimba (The One), Emun Elliott (Prometheus), Alfred Enoch (Harry Potter, How to Get Away with Murder).
AUX
Aux is a magazine for music and culture. Together with all those who not only want to hear their sound, but also live it, AUX explores the music landscape in Austria and beyond once a week. Because: music today is more diverse than ever – time to present it that way.
About CANAL+ and CANAL+ FIRST
CANAL+, one of the largest media brands in the world, is coming to Austria in cooperation with A1. The CANAL+ Group is active in 40 countries, has a total of 22 million subscribers worldwide, and is the European leader in the production, acquisition, and distribution of feature films and TV series with its StudioCanal and KINO SWIAT brands. CANAL+ is now coming to Austria with the streaming offer of the same name and the linear channel CANAL+ FIRST. What's special about the offering is not only the distinctive content, which focuses on Austrian and European in-house productions, but also that the service is being created at the Vienna location specifically for the Austrian moving image market.